CxContent::START::content - article::body
Your Arctic Air Pure Chill will come with the following items:
Fan speed indicator lights
Vent Adjust tab
On-Off button
Back Grill
Front Grill
Fan Speed Button
Light button
Water tank
USB cable
USB power adapter
Battery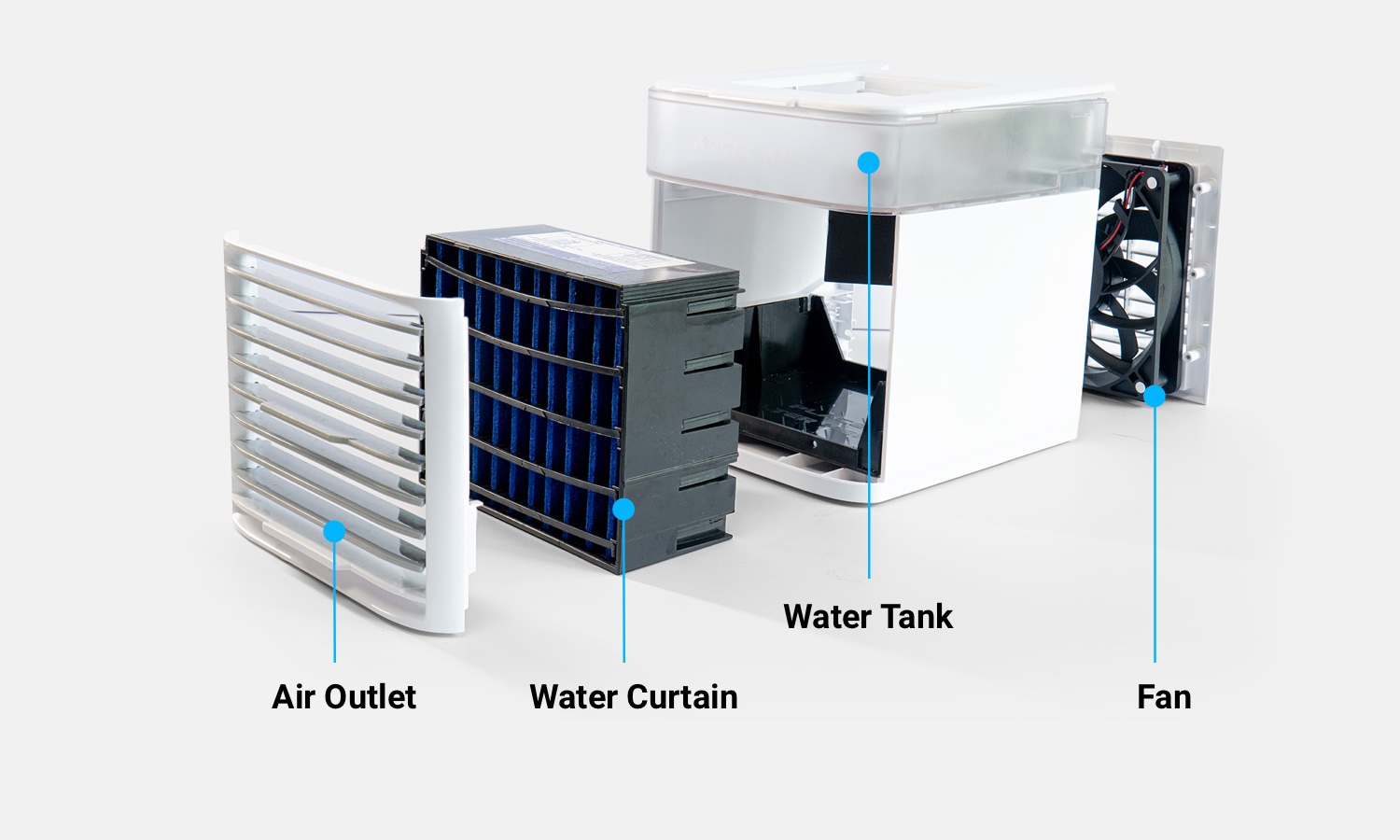 The Arctic Air Pure Chill package dimensions are 10.75 tall with 8.07 in width and 7.17 in length. It weighs just 2.77 pounds! This personal space cooler is made of ABS and silica gel. The Arctic Air Pure Chill has a 450 ML water tank that enables this cooling unit to run 10 hours without a refill. Read here to know What makes Arctic Air Pure Chill different from its competitors?
The motor speed on the Arctic Air Pure Chill is 2200 rpm when it is set on low and runs at 3100 rpm when it is placed on medium. The high setting has the motor speed running at 3600.
The battery is rechargeable on the Arctic Air Pure Chill. It's easy to do by simply connecting it to a standard USB cable to the Arctic Air Portable air conditioner. The model is listed as WT-10 for the Pure Chill Portable AC.
The Arctic Air Cooler is so light and easy to move that it is perfect for a dorm room, a table top near your favorite chair or other smaller space. The Arctic Air Pure Chill is quiet as it runs too, so quiet. The sound on the Arctic Air Cooler is comparable to your computer fan. This makes this personal air cooler perfect for those who have trouble sleeping to use it.
No assembly is required to use the Arctic Air Pure Chill. All you will need to do is soak the filter , fill the water tank and plug it in for the Hydro Chill Technology to start working.
Click on the banner below to take advantage of a Limited-Time Price 55% OFF Reduction!
CxContent::END::content - article::body