CxContent::START::content - article::body
Arctic Air Pure Chill is a portable personal air cooler that can start blasting icy cold air within 30 seconds of you starting it. Many may ask if this cooling unit works well. Yes, it works great!
Many features on the Arctic Air Pure Chill ensure that you will enjoy comfort during the heat of summer. It has a 450 ml water tank to ensure you are cooled down within a minute. The water tank on the Arctic Air Pure Chill comes with a replaceable filter to keep air flow clean and cool as it's pumped out.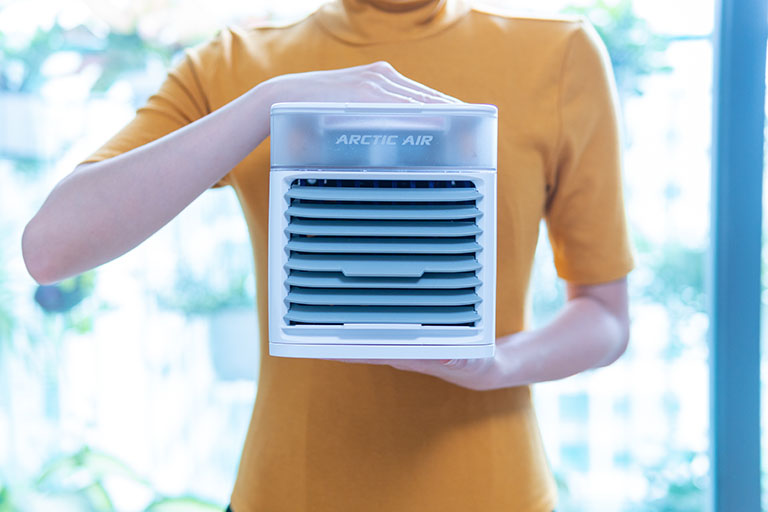 Hydro Chill Technology is used to make this personal cooler highly efficient. This technology, explained in full detail in this How Does Arctic Air Pure Chill work? article, on the Arctic Air Cooler sucks in hot air through the filter and instantly converts it to cool air to flow quickly into the space around you.
There are three fan speeds on the Arctic Air Pure Chill so you can get the airflow you want and it even has an adjustable vent so you can target air flow. The water tank on the Arctic Air Pure Chill is a top-fill design so it is easy and convenient to pour water into without making a mess. You can also refill the tank while the Arctic Air Pure Chill is running.
This personal space cooler has other wonderful features like a nightlight and a rechargeable battery so you can use it cordless! The Arctic Air Cooler can be recharged by connecting it to a USB cable.
The Arctic Air Pure Chill has an innovative lightweight design so it's easy to place anywhere you need targeting cooling. The Pure Chill portable AC fits on your desk, on an end table or in the kitchen. This Arctic Air portable air conditioner works both off a battery and off a power outlet so it can be used anywhere!
Click on the banner below to take advantage of a Limited-Time Price 55% OFF Reduction!
CxContent::END::content - article::body